Comic Relief
The Practice never needs an excuse to take part in a charity event or host a coffee morning. Friday 13th March gave us the opportunity to both. I'm sure you are all aware that it was Comic Relief on Friday more commonly known as Red Nose Day.
We decided that there were a few things that we could do to have a bit of fun and raise a bit of money for a good cause.
Some of you will be patients of John Wykes; those of you who are will know that he is an avid Tottenham Hotspur fan. As a Spurs fan it would be fair to say that he doesn't particularly like their nearest North London rivals, Arsenal. A suggestion came from one of John's patients that if he was to wear an Arsenal shirt for the day he would sponsor him. Begrudgingly John agreed and for the whole of Comic Relief he wore an Arsenal shirt – to prove it here is a picture of it.
Others around the Practice helped contribute to Comic Relief by baking cakes and scones for a small coffee morning that we were running for the day. They seemed to go down well as there was nothing left at the end of the day.
We ran a sweepstake competition that was won in the end by Ian Davidson. Ian kindly donated all his winnings back to Comic Relief increasing the amount we raised by another £20.00!
We relaxed our uniform for the day with Amanda and Daniel taking advantage by wearing Red Noses and wearing Comic Relief t-shirts.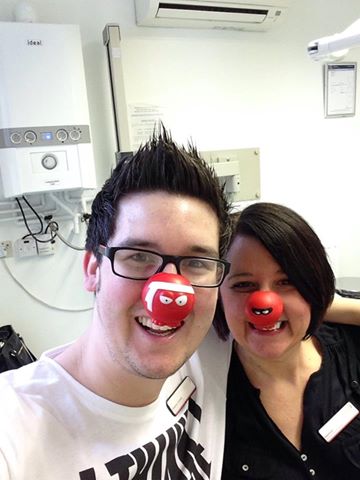 In total I am pleased to announce that the Practice was able to raise over £100.00 with the final total being £105.52. We are very pleased with this total and would like to thank all of our patients who took part by sponsoring John, buying a cake or just simply donating. Hopefully this will go to a worthy cause and make a difference to someone who really needs it.
Thank you!